Training
Ocean-Tec Systems are continually working to offer relevant training courses to assist our Clients. Should you have any particular training requirements, please don't hesitate to contact us, we may be able to help.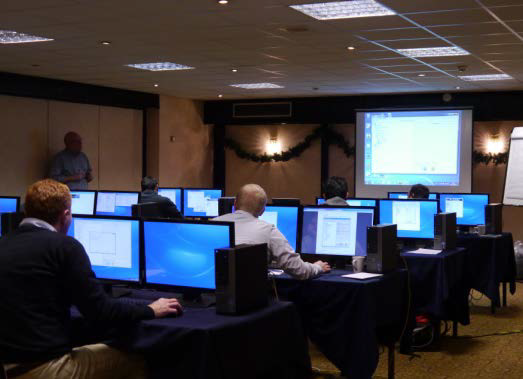 Ocean-Tec Systems provide full facilities, including lunch, and own its own mobile training room IT suite.

Ocean-Tec Systems currently offer a variety of training courses, please refer to our course calendar to view upcoming courses.
Latest News
31/03/2017
Ocean-Tec At Ocean Business 2017
Ocean-Tec Systems will be attending Ocean Business 2017 in Southampton on 5th April. Should anyone wish to have any meetings during the day, please contact us on info@ocean-tec.co.uk to arrange...
28/03/2017
New Renewables Vessel Performing Trials
The VOE VANGUARD, a new design of renewables vessel, is currently undergoing DP trials in Holland. The vessel, which features a unique design, includes various features specific to performing re..
18/10/2016
New Renewables Support Vessel Taking Shape
A New class of support vessel, specifically designed for the challenges of the renewables market, is taking shape in Holland. Ocean-Tec are proud to have assisted the vessel owners with aspects ..
18/10/2016
Makai Offers Advanced Training Course
Makai Ocean Engineering is now offering an advanced cable laying course for operators who have managed real cable installations at-sea using MakaiLay. In addition to filling any knowledge gaps t..